Welcome to the paradise of North Cyprus, where pristine beaches and azure waters await you.
With its stunning coastline along the Mediterranean Sea, this hidden gem offers a range of beautiful beaches that will captivate your senses.
Join us on a virtual journey as we explore some of the most breathtaking beaches in North Cyprus.
Acapulco Beach (Catalkoy) :
Acapulco Beach offers various amenities and facilities to visitors.It has a well-maintained beach area with sunbeds and umbrellas where you can relax and soak up the sun. the calm and clear waters are great for swimming and other water activities such as snorkeling and diving , the beach also has a jetty from which you can take boat trips or indulge in water sports.
Alagadi Beach, (Kyrenia) :
Alagadi Beach in Kyrenia is the perfect place to get close to nature and experience something truly unique. With its stunning scenery and tranquil atmosphere, Alagadi Beach is a must-visit since its one of the best place to visit in kyreina .

Golden Beach, ( Dipkarpaz ) :
Golden Beach, also known as Golden Sands Beach, is a beautiful sandy beach located in Dipkarpaz (also known as Rizokarpaso), which is a small town in the Karpas Peninsula of Northern Cyprus. The Karpas Peninsula is renowned for its stunning natural beauty and pristine beaches, and Golden Beach is one of its highlights. Golden Beach stretches along the northeastern coast of the Karpas Peninsula, facing the Mediterranean Sea. It is known for its soft golden sand and crystal-clear turquoise waters, which make it a perfect destination for sunbathing, swimming, and enjoying water activities.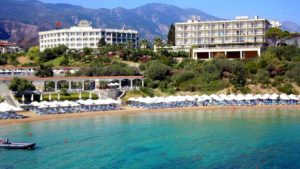 Denizkızı (Mermaid) Beach (Alsancak):
Denizkızı Beach is a beautiful spot located in the Alsancak region. It boasts clear waters, a sandy shore, and stunning views of the Mediterranean Sea.
the beach is well-equipped with facilities such as sunbeds, umbrellas, and a beach bar.
Lara Beach ( Iskele ) :
Lara Beach is known for its stunning natural beauty and pristine sandy shores. It stretches along the coast, offering visitors a picturesque view of the Mediterranean Sea. The beach is surrounded by rugged cliffs and scenic landscapes, creating a tranquil and idyllic atmosphere.
Tourists often visit Lara Beach to enjoy the crystal-clear waters and indulge in various water sports activities such as swimming, snorkeling, and jet skiing. The beach is also a nesting site for loggerhead and green turtles, which makes it a significant area for conservation efforts.
Palm Beach, ( Famagusta ) :
This is a popular beach among locals. The water is clean, warm and the sand is golden. It's a fine choice to enjoy the sand, and sunny weather as well. The sea is usually calm and safe and you'll have the deserted hotels of abandoned Varosha as a unique backdrop.
Yeni Erenköy Public Beach :
Around 2 km east of Yeni Erenköy there is a small pretty sandy public beach (Halk Plaj in Turkish). It has a high-season restaurant, sunbeds to hire, showers and toilets which are available from April to October. Out of high season, it's often deserted and so is the ideal choice for those who prefer quieter beach experience.
This beach offers a beautiful stretch of golden sand, crystal-clear waters, and a tranquil atmosphere. It's a great place to relax, swim, sunbathe, and enjoy various beach activities. The beach is well-maintained and equipped with facilities such as sunbeds, umbrellas, and showers, ensuring visitors' comfort.
Silver Beach, ( Famagusta ) :
Silver Beach is a popular tourist destination located in Famagusta, Cyprus. Famagusta is a historic city situated on the eastern coast of the island and is known for its beautiful beaches, ancient ruins, and cultural heritage.
Silver Beach, also known as Serenity Beach, is a stretch of coastline with pristine white sand and crystal-clear waters. It offers a tranquil and relaxing atmosphere, making it an ideal spot for sunbathing, swimming, and enjoying water sports. The beach is well-maintained and often less crowded compared to some of the more popular tourist beaches in the region.
Diana Beach, ( Kyrenia ) :
This beaLocated on the east of Kyrenia (Girne), Diana beach is furnished with umbrellas and sun loungers. There is a beach bar for refreshments. It's a peaceful spot for spend an afternoon on the sand.
Lagoon Beach :
Lagoon Akamas Beach, also known as Blue Lagoon, is one of the most popular attractions in the area. It features crystal-clear turquoise waters, fine white sand, and dramatic rock formations, creating a picturesque setting for visitors to enjoy. The water in the lagoon is shallow and calm, making it ideal for swimming, snorkeling, and other water activities. also this beach is particularly famous for being a nesting site for endangered green and loggerhead turtles, which come ashore to lay their eggs.